Thanks for printing! Don't forget to come back to Zerorez Dallas for fresh content!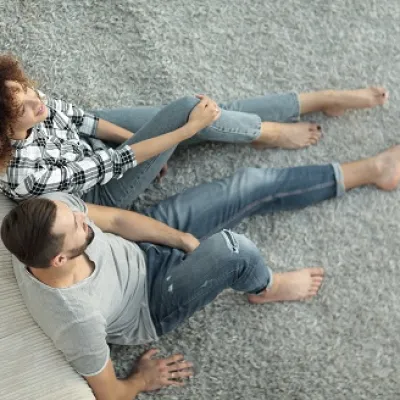 We're Open!

Zerorez is classified as an essential business since we help fight against the spread of germs and viruses through our unique cleaning. We can sanitize and apply disinfectant to living surfaces as well.

As residents of the DFW area, we are all experiencing unprecedented times. At Zerorez, we too are impacted, and can help with this challenge. Learn what the CDC recommends for cleaning your home and carpet.
Learn More
A Smarter, Lasting Clean™
Because we don't leave residue behind that attracts dirt, your home stays cleaner longer. Traditional carpet cleaners use harsh chemicals and soaps that leave behind residue, attracting dirt over time-the opposite of what you want after a cleaning.
The only choice for a true clean that lasts longer.
Zr Clean™ & Patented Technology
Satisfaction Guaranteed
We want to make sure your experience is as easy as possible. We will clean and test a small area of carpet and if you don't believe how well the process works, then you decide whether to continue with the rest of the service or not. No hassles and no worries.
No soap lingering to attract dirt.
Our zr process™ which includes Zr Clean™ allows us to clean your surfaces without the use of detergents or harsh chemicals, which means your carpet stays cleaner longer, unlike other carpet cleaning companies in the Dallas area.
Your Surfaces Dry Fast with our zr process™.
Zr Clean™ is applied to your carpet through our patented process that loosens embedded dirt to the base of the fibers using high-efficiency jets. Our Zr Wand™ out performs the top selling wands on the market by removing embedded soils, and detergents left behind by other cleaners, and other debris while allowing for a fast drying surface.

Platinum Certified by the Carpet and Rug Institute
Not only is this the highest approval rating possible from the Carpet and Rug Institute, Zerorez® is rated the #1 cleaning process in the nation by an independent testing laboratory. When we clean, there is nothing left behind.

No harsh chemicals means Safety for your family and pets.
Since Zr Clean™ doesn't use any harsh chemical additives, your surfaces are perfectly safe for your family and pets, no matter how small.
Stay Connected
Stay Connected with us to receive up-to-date information on special offers, promotions and tips to maintain a healthy, happy and clean home!
We respect the privacy of our users. Please review our
privacy policy
What Dallas is saying about Zerorez
2143725326
Zerorez Dallas
1000 W Crosby Rd Ste 124 Carrollton, TX 75006, Carrollton, Texas 75006
Varied
Competitive Prices
We love having Zerorez clean our carpets! The service is always great, on time, and friendly. Technicians are professional and well dressed. Best of all, our floors stay clean for months, and the price is competitive, especially considering the extra time we can go between cleanings.
-B. and S. Zettler Corinth, TX
Anonymous
2143725326
Zerorez Dallas
1000 W Crosby Rd Ste 124 Carrollton, TX 75006, Carrollton, Texas 75006
Varied
Repeat Customer
I've had to use them twice over the past year. First time they did a general clean of all carpeting and stairs. I called them again to take care of some pet stains and odors after one of our dogs had gotten very sick. Our technician was great, showed up right as scheduled. He assess the problem, went over the best treatment options to make sure he was able to eliminate odors down to the padding. Fast forward a few days and the carpet still looks and smells clean. We will definitely use them again.
Susana C. The Colony, TX
Anonymous
2143725326
Zerorez Dallas
1000 W Crosby Rd Ste 124 Carrollton, TX 75006, Carrollton, Texas 75006
Varied
Looks Brand New
Excellent service! We just had our carpets cleaned today and they look brand new. We have 4 kids and a dog and had food, candy, drink, mud and pet stains and they are all gone. Our tech (Miguel) was on time and was very professional. We will be using them again.
Essi M. Fort Worth, TX
Anonymous